I think I need to make this post because I know those feelings of buying the wrong design for my eyes. I know when I was into gyaru, I wear a lot of dramatical/glamorous false lashes to enhance the look. My favorite was the spiky one with black band and longer hair on the edge for 'cat eyes' effect.
I have a small round eyes and some of the false lashes design sometimes is too long for me. But, it depends on what kind of look you want to achieve. If you have small eyes like me, perhaps you want it to look bigger or wider. Or you want to keep it small and cute.
For small eyes its best to choose semi-full false lashes or partial false lashes. Why? because the semi-full lashes has the best length that suits my small (asian) eyes. Now I want my false lashes to look super natural (except for a party or photoshoot), if I buy a full length false lashes, sometimes I'll cut it a little bit to fit my eye line.
Ok, I know some of you probably confuse without images sooo I'll show you some of my favorite designs for my small eyes.
Btw this post isn't an endorsement or ad, I just want to make an informative post and share it to the people who needs it.
:)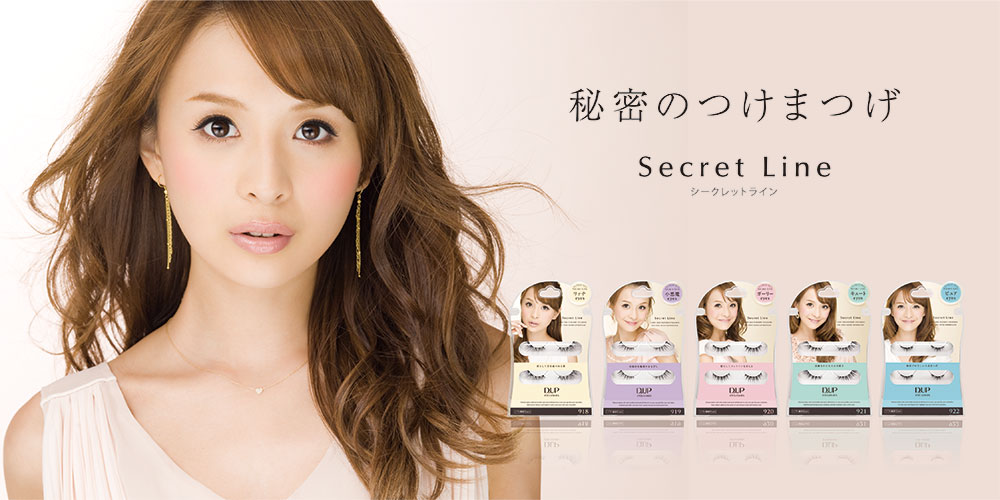 image from dup jp
First, it's DUP Secret Line. Why it named secret? Because this false lashes is so natural, people won't notice that you're actually wearing it, so it's only our secret! Yes ladies? lol
Ok and my favorite design for natural look is:
Dup Secret #922 Pure Eyes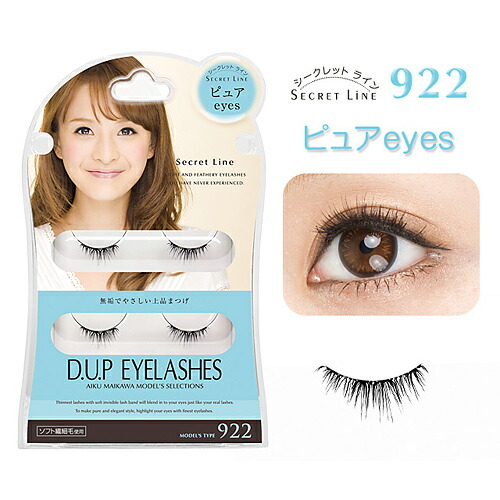 image from dup japan
I really love this design a lot! I think this is my favorite design from the Secret Line (actually all of them is really nice as well!). But the reason why I love this false lashes is because it looks super natural on my small eyes.
I apply it at the middle of my eye line after applying mascara and the result is exactly like on the picture above. It looks so cute and innocent! When I don't wear contact lens it looks even more natural and blends with my small eyes as well.
DUP Secret #918 Rich Eyes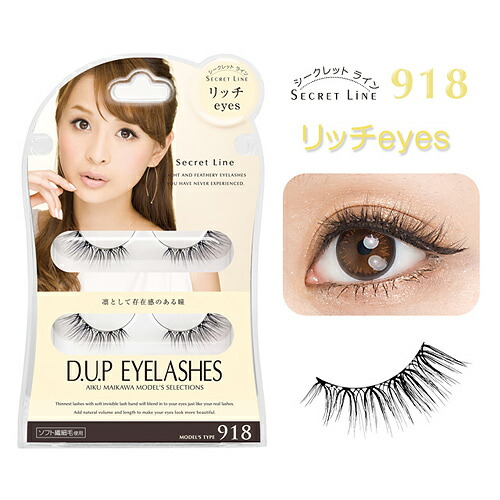 image from dup japan
I usually wear this style for hang out because when I go out most likely I'll take photo. And I want my eyelashes to look a bit fluffier at the edge of my eye line. This false lashes is semi-full type and it works wonderful with natural eye make up.
I apply this false lashes start from the edge of my eyes and try to fit it to my eye line so it looks natural. The hair is really soft for daily wear as well.
Miche Bloomin Pure Nude No. 2
images from miche bloomin jp
This is the false lashes that I wear daily in Japan, my fiance loves this design on me. I should say I really love this design as well. The false lashes is really soft and it makes my eyes look bigger but still looks so natural. I will repurchase this false lashes forever, lol. I really recommend this!
Miche Blooming Pure Sweet No. 03
images from miche bloomin japan
I instantly fell in love with this design! By only looking at the packaging, I already know this design will fit my small eyes and blends well with natural make up.
Dolly Wink No. 29 Pure Dolly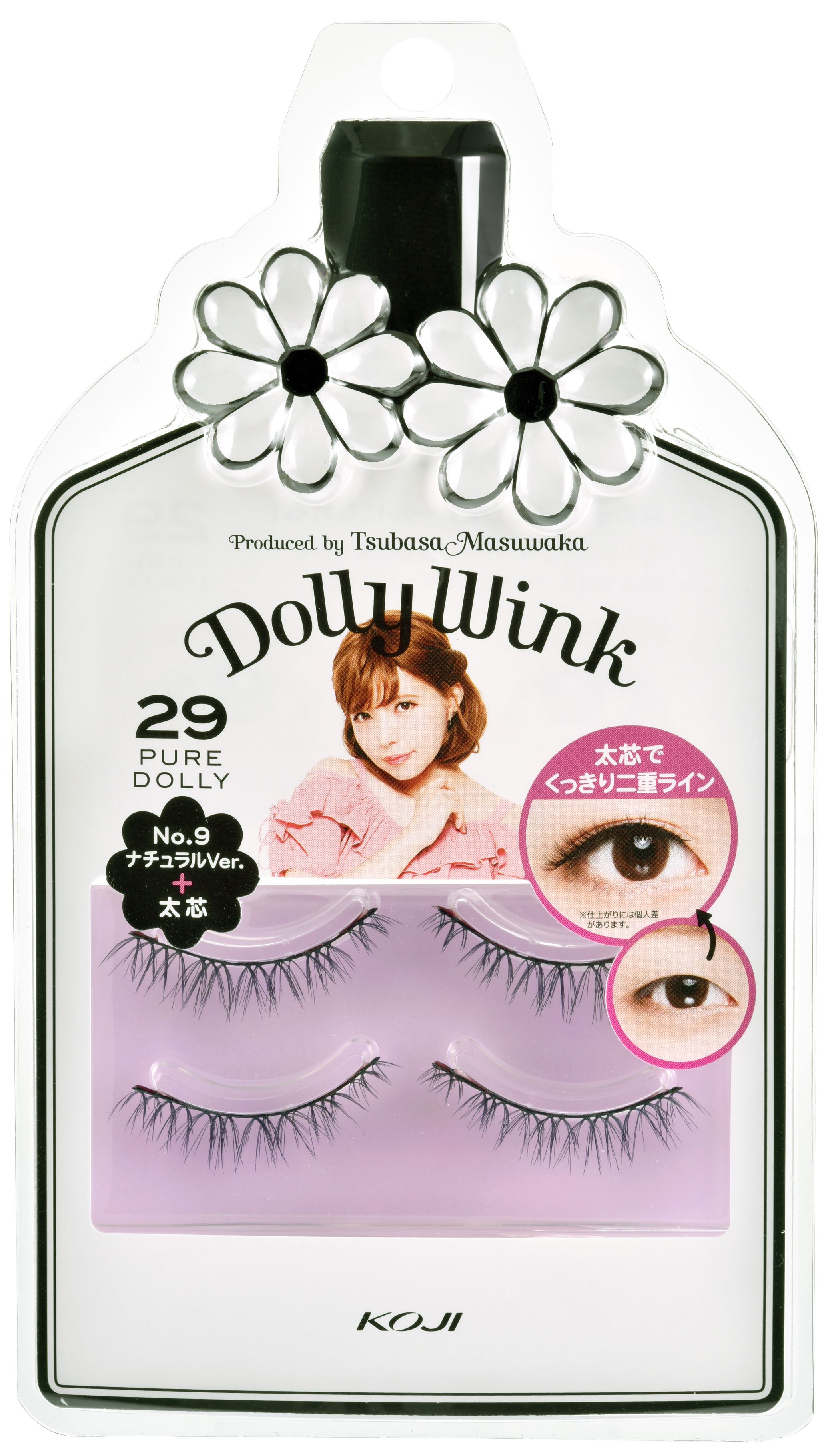 images from koji honpo
Sometimes when I want my eye make up to look a bit bright and I want my eyes to look bigger, I'll choose this design. This false lashes has black band but it doesn't hurt, actually if you have mono eyelid, I recommend you to use false lashes with black band.
Black band false lashes with good quality will lift up your eye line and make double eyelid instantly. Also if you have double eyelid tape, it works better with black band false lashes than transparent band false lashes. The reason why I tell this to you, because the black band is stronger to lift the thick eye fat. Believe me haha.
Miche Bloomin No. 28 Rich Mix Wing
images from miche bloomin japan
Imagine when you're in a rush, you only have time to apply eyebrow and eyeshadow but you still want to wear false lashes to define your eye make up. Personally I'll recommend false lashes with black band (again) because when I apply it to my eyes, I don't really need to wear any eyeliner.
This Wing series from Miche bloomin has black band but it looks so thin and natural! I personally love this design, the hair looks so fluffy and airy.
Diamond Lash Precious Eye
images from Diamond lash jp
If you don't mind a stiff band then you should try this one from Diamond lash. This series has 3D shape of all their false lashes design. Means you don't need to curl them anymore with eyelash curler. It shaped with natural curl and wearable many times!
Despite of the hard band, I really love this design a lottt. I always wear it if I don't go out for all day /sigh
I wish I could find other similar design to this with softer band. This false lashes comes in transparent band so it looks natural for daily!
Actually I have more favorite false lashes design but I guess it's all for now. This post is my recommendation if you're looking for a natural false lashes. It works on people with big eyes as well BUT please note that this post titled 'NATURAL' so the result will be like our natural false lashes but longer and fancier. lol